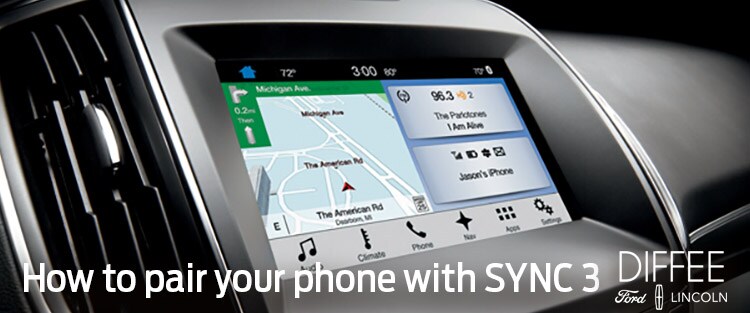 Diffee Ford Lincoln: How to Pair Your Phone with SYNC 3
At Diffee Ford Lincoln, we know there are few things more exciting than driving a new vehicle off the lot. You're starting a relationship with a new set of wheels that will provide years of safe and comfortable transportation—and probably more "bells and whistles" than you're used to! While it's true that your Diffee Ford Lincoln sales representative demonstrated many of the new features of your vehicle to you, it often takes a while to learn how everything works, so you can take advantage of hands-free phone technology. You'll be able to stay connected and drive safely with this fully integrated voice-activated communications, entertainment and information system.
Let's Get Started!
First make sure your phone is compatible with SYNC 3. Then it's important to familiarize yourself with the controls in your new car, truck, SUV, crossover or van. To start pairing you must start your vehicle and put it in Park, not in Accessory mode.
1. Start by switching on your vehicle and radio, and then turn on your mobile phone.
2. Then, enable your phone's Bluetooth feature and make your phone discoverable.
3. Press "Add Device" on your vehicle's SYNC 3 touchscreen.
4. Use your mobile phone to scan for devices, until your find SYNC.
5. When you select SYNC on your mobile phone, it will display a six-digit PIN. However, if your device prompts you to enter a PIN, it doesn't support Secure Simple Pairing. In that situation, enter the PIN displayed on the touchscreen and skip Step 6.
6. Confirm that the PIN displayed by SYNC matches the PIN displayed on your phone.
7. The SYNC display will indicate when the pairing is successful.
8. SYNC will then display 911 Assist status. It's OFF by default, but you'll want to press Off to turn the feature on.
9. You will also have the option to turn off Auto-Download Contacts. It is ON by default, but if you want it off, press On.
10. Press the Finish button.
Just a reminder, you can only make and receive calls with SYNC 3 using one paired phone at a time.
If you have difficulties pairing your phone with our SYNC 3 technology, you can also come by Diffee Ford Lincoln and we can help!
Diffee Ford Lincoln Is Here For You
For more than 60 years, Diffee Ford Lincoln has served the OKC metro area. We are in the third generation of family ownership, and we feel blessed by the continued business of our valued customers. Whether you're looking for a new or pre-owned vehicle, or need expert service to keep your current vehicle running beautifully, we're here for you. Come see us soon!