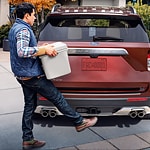 When you need an SUV that you can trust to handle all of your driving needs in El Reno, don't look further than the 2020 Ford Explorer. Diffee Ford can explain the various benefits of all of the features included in this unique and highly capable vehicle.
If you tow trailers frequently, you'll appreciate the standard sway control system. This technology will detect any sway in the trailer and selectively apply the brakes to get it towing straight again. The Explorer can tow up to 5,600 pounds when properly equipped. You can get the Class III Trailer Tow Package with the 2.3L EcoBoost Engine or the 3.3L hybrid engine.
For driving in windy conditions, the Explorer comes with a Sidewind Stabilization system. Whether you're dealing with large trucks passing you on the highway or driving in the open plains, you won't have to fight the changing wind conditions.