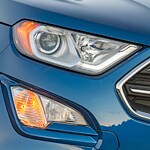 If you're searching for a compact SUV that can make any drive in El Reno comfortable and safe, don't look past the new 2020 Ford EcoSport. This unique vehicle is filled with advanced features that allow it to tackle any driving situation with ease. Diffee Ford can show you the differences between various models of this vehicle.
Stopping on an incline is often stressful. The EcoSport comes with a Hill Start Assist system that will keep the anti-lock brakes engaged while you move your foot from the brake pedal to the gas. This will ensure you don't roll backwards while getting started going up a hill.
The EcoSport also comes with an Intelligent 4WD system. This technology will monitor the wheels of the vehicle and make adjustments to maximize traction. You'll be able to drive with confidence on a wide variety of road surfaces and conditions.