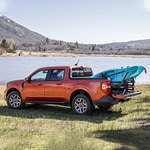 To make the driving experience in El Reno, OK safe and comfortable, the Ford Maverick at Diffee Ford comes equipped with several crucial standard technology features. The Ford Maverick truck comes equipped with a rear parking sensor, which can automatically detect when the driver backs out of the parking spot and prevents the back wheels from leaving the ground. It is the same kind of technology found in many luxury cars today.
The rear-view camera is another important standard feature of the Ford Maverick. This allows the driver to see what is happening behind them without turning around. It comes in various configurations, such as a 360-degree view, and even has its video games.
On the dash, the Ford Maverick features an 8-inch touchscreen display with SYNC 3; the Ford Maverick has all the latest infotainment technology features available. You can connect your smartphone or tablet to the Ford Maverick via Bluetooth to view and control all the audio and video content on the screen while driving.